As the cold weather starts to settle in, it's important to remember to take extra precautions to protect your skin. The dry air and harsh winds can take a toll on your skin, leaving it feeling dry, irritated, and flaky.
Luckily, there are a few easy things you can do to help keep your skin healthy and happy all season long. In this article, we'll discuss some of the best ways to protect your skin from the harsh winter weather.
Get the Basics: Moisturizing and Sunscreen
It might be tempting to switch to a heavier moisturizer as the temperature starts to drop, but it's important not to forget your sunscreen. Even though the days are shorter and you might not be as exposed to the sun, its UV rays can still do damage. Choose a sunscreen that's SPF 30 or higher and apply it every day, whether you're indoors or out.
Your skin also needs extra TLC in winter since the cold weather can be especially drying. Make sure you're drinking enough water and using a moisturizer that's hydrating, like one with shea butter or jojoba oil. If your skin is feeling especially dry, don't be afraid to apply moisturizer more than once a day.
Keep Skin Hydrated in the Winter
During the winter, it's essential to keep your skin hydrated. The cold weather can suck the life out of your skin, leaving it dry, tight and uncomfortable. You can protect your skin from the dry air by using a humidifier in your home, and you should also drink plenty of fluids to keep yourself hydrated from the inside out.
But moisturizing your skin is only part of the equation. You also need to make sure that you're using a sunscreen with SPF 30 or higher. The sun's rays are just as strong in the winter as they are in the summer, and they can cause just as much damage to your skin. So make sure you're protecting yourself every day, no matter what the weather is like outside.
4 Essential Steps for Winter Skin Protection?
Your skin needs extra TLC in the wintertime. Here are four essential steps for keeping your skin protected all season long:
1. Wear SPF every day. No excuses! A sunburn in the winter can cause just as much damage as a sunburn in the summer. Look for a sunscreen that's SPF 30 or higher, and make sure to reapply every two hours.
2. Don't forget your lips! A lip balm with SPF is a must-have in the winter, since your lips are especially vulnerable to wind and cold weather.
3. Stay hydrated! Drink plenty of water (and avoid sugary drinks) to keep your skin hydrated from the inside out.
4. Keep your skin moisturized. Apply a moisturizer every day (and especially after you've been in the sun or snow). Look for a moisturizer with SPF to get double duty out of one product.
Avoid Washing With Hot Water
Hot water may feel nice in the cold months, but it can be really harsh on your skin. Your skin is already going through so much with the cold weather, so why make it worse by washing with hot water?
Instead, try using lukewarm water for a gentler wash. This will help preserve your skin's natural oils and help keep your skin looking soft and hydrated. Not to mention that lukewarm water is better for avoiding heat rash and other forms of irritation.
You should also make sure to use gentle cleansers that aren't too drying, as this could dry out your skin even more. So when you wash your face (or body!) take care to use a mild cleanser that won't strip away all the moisture from your skin—especially during winter!
What Foods Help Protect Your Skin in Winter?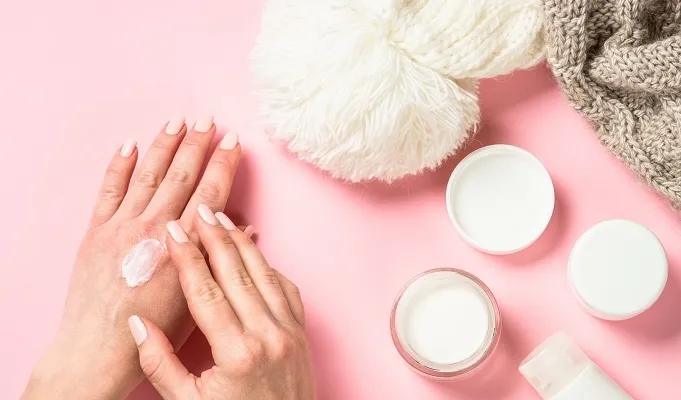 Winter may be the season of colder temperatures and shorter days, but it doesn't have to mean your skin takes a beating. Believe it or not, what you eat can also play a role in how well you stay protected all season long—so understanding which foods offer skin protection through winter is key.
Opt for foods rich in omega-3 fatty acids, like salmon and sardines. Antioxidant-rich foods are also great for defending against free radicals. Think colorful vegetables and fruits like oranges, cantaloupe and blueberries. And don't forget to stock up on Vitamin C from citrus fruits like lemons, limes and grapefruit.
Also, make sure to get enough Vitamin E and A in your diet through eggs, spinach, avocado and other sources. Studies have shown that these vitamins are beneficial for keeping skin moisturized even during the cold winter months! So start adding these tasty foods into your diet, and you'll be providing your skin with some much-needed protection during the winter months.
Vitamins and Supplements to Protect Skin in Winter
Did you know that taking certain vitamins and supplements can help protect your skin in the winter months? It's true! Vitamin C, zinc, and biotin are all essential in helping fight off environmental damage and encourage skin regeneration. Vitamin C is a powerful antioxidant that not only helps reduce damage caused by sun exposure, but also helps stimulate collagen production. Zinc is known to help with wound healing, while biotin aids in maintaining healthy skin integrity.
Your best bet is to speak with your doctor and see if they recommend adding any of these vitamins or supplements to your daily health regimen. You can also find many skin-supportive products on the market such as creams and serums that contain some of these ingredients, making it easy to get the skin protection you need all season long.
Conclusion
In short, make sure to keep your skin protected all season long by following these simple tips:
– Wear sunscreen every day, even when it's cold outside
– Use a lip balm with SPF
– Wear a hat and sunglasses when you're outside
– Stay hydrated
– Avoid going outside when the sun is at its strongest
– Use a night cream to replenish your skin's moisture